It seemed like we had been waiting forever!!! Speedi-Kazz have finally made that all-important delivery of fine entertainment back to our screens again.
The first series of Enterprice gave us a hilarious insight into the lives of Kazim and Jeremiah. The friends-turned-business-partners battled with the stresses of uni, relationships, and their parents in an attempt to keep the childhood dream of a scooter-driven company alive.
The second series is phenomenal, from the structure of the story to arbitrary humorous moments, the realism in the dialogue, the vibrancy of culture… even when the pink superimposed 'ENTERPRICE' title is on the screen you'll find yourself vibing to the music!
In our screening and Q&A of Enterprice last month Kayode mentioned how he loves to find new and upcoming talent, this series is a testament to this and below is a list of the talents who featured in the 5-part series.
KAYODE EWUMI
We all know him! He's the creator of the show!! The same man who brought us comedy in the form of the best mockumentary about London's streets. If you're looking for inspiration I suggest you watch this interview from 2018 when Enterprice was just an idea on paper and compare it with this interview from this month. You'll learn a lot!
TRIEVE BLACKWOOD-CAMBRIDGE
A graduate from the London Academy of Music and Dramatic Art (LAMDA). Since then he has performed at Shakespeare's Globe and has made appearances on the BBC and Netflix. In Enterprice he is caught between a rock and a hard place, desperately wanting to be a businessman but finding it a struggle with his parents trying to keep him focused on medicine. In the latest series, Trieve brings a wealth of emotion to his character which you don't normally get from comedies and goes to show how talented of an actor he is.
FATOU SOHNA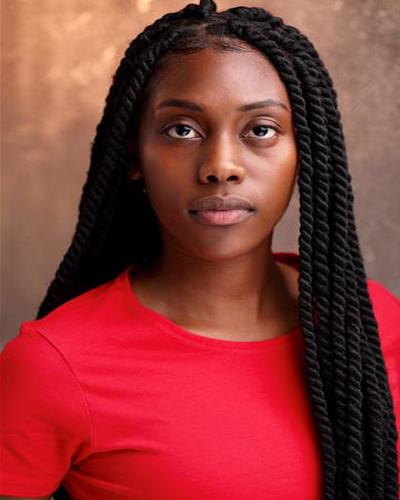 Fatou has joined Enterprice and Simi has joined Speedi-Kazz. Fatou's performance is gripping and the way she easily switches up the role of Simi changes the way we respond to her character constantly. If you've seen the series then I'm sure you can agree that we need to see this actress in more roles, she's capable of anything!
THEA GAJIC
Actress, writer, and director. Her first short film Run was selected as BFI Postroom's Pick of The Month. Her second short film The Importance of Skin premiered on Short of The Week at BFI. She has also made a short with Film London titled Eli. Thea is proof that if you want to create your own work you should go ahead and do it, build your team! She drops some serious gems in this interview with Kayode.
THEO SOLOMON
You've seen the posters for the Sky Atlantic series, Temple. They're everywhere! You guessed it, Theo's in that. Known for having a 'smooth, warm sound' to his voice, he has applied this to his adverts and theatre performances.
DWANE WALCOTT
In 2017, he was Marcellus in a production of Hamlet at The National Live Theatre. On TV, he has demonstrated his talent on both Into the Badlands and Doctors. Now he is Mustafa, the coercing and corrupt, some of you may see him as a villain, I like to think he's just misunderstood.
ADELAYO ADEDAYO
It must be a wonderful feeling to have credits in film, theatre, and television. If we're talking film then you've seen her in Sket, Gone Too Far, Jet Trash and much more. If we're talking TV accolades, she's worked with BBC 1 & 3, ITV, Sky 1, etc. The Bill? She's done that. Skins? She's been on that too. Law and Order? Yup! She's on a roll and she absolutely embodied her role in Enterprice. That 'Konko Below' scene was everything.
ZAKIYYAH DEEN
From commercials for 02 and Fifa to various acting roles for RAaw Films, Zakiyyah is up there as a multi-faceted actress who brings her originality to any role. Let's talk about her role in this series, hands down one of the funniest performances on the show. She made us both want and not want a housemate like her, it would be hilarious but…the goat??? We can't wait for her next onscreen appearance now!
ROGER GRIFFITHS
Reprising his role for the second series is a man with 54 IMDB credits! We're talking Doctors, Holby City, Casualty, Doctor Who, Desmond's… This could take a while… Batman Begins, Vexed, My Family, Eastenders… and 45 more! Roger's been representing from day!!
KWABENA ANSAH
Another remarkable actor who has conquered the heavyweights that are film (Limbo), theatre (Start Swimming) and television (The Athena).
TANYA MOODIE
This actress has owned her roles Sherlock, The Bill, Holby City, Silent Witness, Motherland… we could list her credits all day. She has returned to Enterprice as Sheila, and we can't wait to see her onscreen again.
MODUPE ADEYEYE
She is well known for her role as Faith in EastEnders and Kiera in the shocking TV movie My Murder. Including an actress of her calibre is proof that Enterprice 2 was always going to bang!
RACHEL ORIOWO
Comedy, commercials, presenting, theatre and TV performances, you name it and Rachel has done it! She's a passionate actress who graduated from Identity School of Acting and landed a role in Mariah: The Diva, The Demons, The Drama.
JOAN IYIOLA
In the theatre world, Joan is known for playing the roles of powerful women. In Shakespeare's Globe, Joan was outstanding as the daughter of the Queen of Iceni in a production of Boudica. Her commitment and realism to her characters makes her an inspiration to the upcoming generation that look up to her. In Enterprice she masters the art of being stern but compelling, who can forget 'sleeping goat' from series 1?
DOMINIQUE MOORE
Joy! Happiness! Life! Dominique brings these with her whenever she's onscreen; her Horrible Histories and Hotel Trubble days on CBBC are fine examples of this. She also voices Lulu in the Disney series Sadie Sparks. It's safe to say that she's doing bits!
SHAQ B. GRANT
You've seen our interview with him, right? If not, then it's here. If you want to know how important staying focused is then you should watch it because Shaq is a model example of how sticking to your craft no matter how hard the journey gets will have you reaping the rewards of your labour soon enough.
KARL QUEENSBOROUGH
All that needs to be said is that just watching his showreel will have you gassed for Enterprice 2!! Sometimes the cast needs someone that can do it all, drama, comedy and theatre.
KIELL SMITH-BYNOE
He's back! When you're done binging the second series, you should check the content on his Insta page. You have to give it to him, he's a funny guy. His energy is exactly what we look forward to when watching the show.
GERROME MILLER
A star-in-the-making after starring in a number of short projects Gerrome is definitely someone to look out for in the future guys!
HEATHER AGYEPONG
This actress is also a visual artist and performer. With a creative focus of raising awareness for mental health, activism and the diaspora it's no surprise that she has been nominated for the Paul Huf Award in 2016 and 2018.
JUDE CUDJOE
His showreel game is strong, like seriously! Take a look at it here and see how his role in Doctors keeps you watching the whole thing.
LAURAN RAE
Have you heard her voice! My gosh! Lauran is also a singer who has performed in Hairspray, Bugsy Malone, Jesus Christ Superstar and loads more.
AMOUR OWOLABI
After training at Identity Drama School he secured roles in feature films such as Shattered Hearts and Hunting for Hubbies.
ADJANI SALMON
Mr. Filmmaker! The iconic creator of the Dreaming Whilst Black web series that surpassed 40,000 views in just 3 months. Adjani creates content that is inspirational as well as entertaining and has a whole bunch of awards to show for it. Kayode and Adjani onscreen together is one of the best things to happen in 2020! Check out a few of his tips for writing a successful web series here.
NAANA AGYEI-AMPADU
Moving to the UK from Ghana when she was only 5, she has graduated from Sussex university after studying law. However, her passion to act was something she had to pursue and now she has performed in theatre in pieces like The Front Line and The Oresteia.
YETUNDE ODUWOLE
Returning to Enterprice 2 is the multi-award-winning actress. She holds a diploma in Performing Arts and Musical Theatre. Her 'standout' performances on stage have been noted as Camden Journal. And let's not forget that she has been recognised for best actress by Screen Nation, Beffta, Zaffa, and NEL awards.
ANTHONY ADJEKUM
This actor has featured in Casualty, Holby City and also Youngers. The chemistry of the cast in the season is amazing and it's probably to their similar acting backgrounds.
NICOLA ALEXIS
Taking on the role of Hermione Granger whilst people are calling for a white replacement must be no easy feat, but she did it! Nicola starred in Harry Potter and The Cursed Child last year and smashed it. On the TV side of things, she's been killing the game for years. From Dangerfield in 1999 to Fleabag.
DARREN HART
BBC and Channel 4 can't get enough of him. He's appeared as Will in The Bi-Sexual and has also been on Call The Midwife. His acting on Cbeebies' Apple Tree proves that he is an actor for all age groups.
JASON FORBES
Are you familiar with BBC Radio 4's comedy series Daphne Sounds Expensive? If you have then you probably know Jason is the writer and star of the 'best radio sketch show' award-winning series. Oh, and he also narrates several audiobooks, because, why not!
HANA OLIVIERA
R.S. and Rachel were the Hood Documentary couple with a very one-sided relationship. Hana is an actress that deserves all the props for working with Kayode as R.S. and keeping a straight face. We want more onscreen time with these two talents! If there is a further season I want to have her character explored!
MILLY THOMAS
The Edinburgh Fringe festival has played two shows written by Milly, these are Dust and Brutal Cessation. Milly partnered with the suicide prevention charity Samaritans to produce Dust as the play is a study of the effects suicide can have on the ones around you. Being the star of the show is a demonstration of Milly's bravery as the character was formed from parts of her own experience with mental health.
JANET KUMAH
She is a performer with a passion for music, a perfect addition to a show with so much soul. Janet is no stranger to acting though, having been in the movie Containment and performed in theatre she lets her talent shine in this series.
These three also joined Enterprice 2, Jayden had us laughing during the double-date scene and we can't wait to see what these talents will bring to our screens next.