You can't see me doing it but I'm covering my ears. Because I don't want to hear any negativity about 'how reboots are lazy cash-grabs and they're only being made because production companies are lacking ideas'. In most cases, this is true, I mean who needs to see make-believe lions singing? But I personally think the stigma behind them mainly applies to films because there are some TV shows out there that absolutely banged in their prime and need to be revived!
After much consideration, I have chosen 6 shows that I believe need to be brought back in some way. Ultimately I'll be deciding whether the show should return by getting the old cast members back together again or finding fresh new faces to fit the roles. I think you'll agree with me on most of these!
Misfits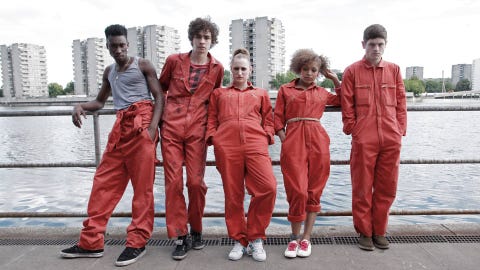 Everyone is entitled to their own opinion and I'm going to quickly give you mine. This show right here… Straight fire!! Misfits is a piece of art that doesn't play by the rules, it said 'stick to one genre? Nah, I'm about to use all the genres!' And it mixed together comedy, drama, crime, science fiction, and even romance to create one of E4's most entertaining series. Like many people I've talked to about this show, I believe it was at it's best with the original cast from the pilot episode. So, to answer the question of new or old cast? It has to be old. How likely is getting them back together? Well, Nathan Stewart-Jarrett (Curtis) is still active, having made several appearances in film and TV this year. Antonia Thomas (Alisha) is also representing, she stars in the show Netflix show Lovesick and Robert Sheehan (Nathan) is also on Netflix as Klaus in The Umbrella Academy. All I'm saying is it's not impossible, we can make this happen people!
Skins
I already know what you're going to say, 'but America already rebooted this show and look how that turned out.' And my response to that is I don't care! I'll convince you that we need a UK remake. What made this television series so wonderful was its writing understood it's audience. Growing up watching Skins was like seeing into a portal to the world parents didn't want you to see. It captured a realism – although very dramatised – that wasn't accessible anywhere else. Most importantly, we were introduced to maturing stars such as Dev Patel and Daniel Kaluuya who are now owning the lane they paved for themselves. Kaluuya even contributed to the writing of some episodes so the authenticity of the show is home-grown. The Main reason this show needs rebooting is because it's final episode was all the way in 2013 and I can't lie, that's basically pre-historic, do you know how much the world has changed since then? Your Cinema didn't exist; Xbox One was set to come out later that year, and I'm struggling to think what we did for entertainment before then. So now imagine a reboot! I'd love to see our upcoming actors presenting issues that we come across with today.
Desmond's
If you were involved in the 'do we still still actually watch sitcoms' conversation in one of my previous articles then you'll remember me saying that Desmond's celebrated its 30th anniversary this year. You'll also recall that they celebrated by recreating some of the shows iconic scenes live at Theatre Peckham. The performance was a hit and the old cast that turned up gave their praise to the young actors who skillfully brought that classic feel to the show back. I clearly can't be the only one thinking that this show still has life? The essence and values of the sitcom are just as relevant today as they were in the 90's. I'd love to see a comedic portrayal of how Peckham has changed over the years and how barber shops haven't. Matter of fact, somene get Trix on the phone, I'm tired of waiting…
Utopia
Another show starring Nathan Stewart-Jarrett, this time he is Ian, an ordinary man that finds himself mixed in an extraordinary situation. He's joined by two others who are being hunted down by an organisation for a prophesising manuscript in the form of a graphic novel. Every moment of this had stunning visuals, a chilling soundtrack and an idea that should have carried it for more than two seasons. For those of you who slept on Utopia, I feel for you because in my humble opinion there hasn't been another Channel 4 show that compares to this one in regards to its creativity and storytelling. I often find that most TV series take a while to warm up to but this one hooks you in from the start. The stakes are high. The cast are superb. The plot unravels at a binge-worthy pace. On top of that, Neil Maskell and Paul Ready are so shockingly excellent in their roles that I couldn't imagine this being made with a new cast. With that said… I feel there's much in the world of Utopia which needs to be explored…
The IT Crowd
And last but not least… I know the last episode was a wonderful send off to the actors. I know that the actors are too high-profile now to even think about reprising the roles they left behind in 2013, but maybe, just maybe, Richard Ayoade will see this and change his mind. Then he'll convince Chris O'Dowd and Chris will persuade Katherine and just like that we'll have the show back. It's possible. This is still one of Channel 4's best sitcoms, one which took a risk from the start and went down the live audience route. Where can I even find another UK show even remotely similar to this right now? There is definitely a gap in the market for this to be brought back and I said it here first!
That completes my list of shows. I'm interested to see if you agree with me. Should they remain where they are, slowly being forgotten? Or should we breath new life into some of our favourite characters? You can let me know on Insta and Twitter.